Our full Pacific Cup crew — Michael, John, Alan, Rich, Steve, and Paul (me) — took VALIS out on Saturday June 21, for some practice offshore. After breakfast, we left Sausalito around 10:30AM, and headed for the Golden Gate Bridge. On the way we conducted radio checks with several Pac Cup and Singlehanded Transpac boats – it was good to learn that our signal continues to sound good, and most all of the other boats were coming in loud and clear.
As we approached the bridge, Peter Lyons of "Lyons Imaging" zoomed by in his RIB and asked if he could take some pictures. Of course we said yes!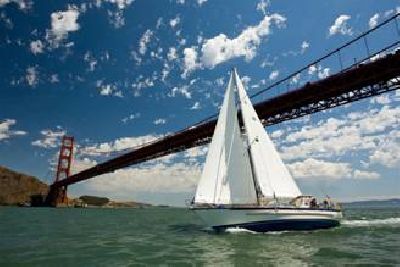 http://lyonsimaging.smugmug.com/gallery/5229185_CoNjB#P-1-15
We had a nice breeze heading out, but once we passed Point Bonita the wind dropped to just a few knots. After wandering in vain looking for some wind, and slatting around for a while, we fired up the Diesel and powered in the direction of the Farallons. A few miles out the wind returned, the seas built, and we had begun what was to be a bumpy afternoon and evening.
Rich prepared some freeze-dried dinner "samples", and we took a vote: Beef stew was strongly rejected, but the beef stroganoff and the chicken with rice were declared edible. The final decision was to save the freeze-dried stuff for when we run out of real food.
We started our three-hour watches, with two crew on, four off. At 1-1/2 hour intervals one person came off watch and another came on, and this staggered-watch system seemed to work well. We will probably lengthen the daylight watches during the race, and make adjustments to compensate for some of the off-watch duties (communications in particular).
During the night we got used to handling the boat close-hauled in 20-30 kt winds (with 35-kt gusts), and seas 6-8 ft. At midnight we were about 50 miles offshore, so we jibed and headed back to San Francisco. By mid-morning Sunday we were back in the channel, at the tail-end of an ebb current. We sailed between Alcatraz and Angel Island, and then towards the Richmond Bridge. We did our MOB drill, then headed back through Raccoon Strait and into Sausalito. We had a debriefing, then washed down the boat. This was a good sail with a great crew!