As announced on the Sailing Anarchy site, VALIS is throwing down the gauntlet: We hereby challenge any and all of the Pac Cup fleet to a fishing contest.
The winning fish will be determined by length (or the longest dimension: for example, octopi may be measured arm-to-arm), not weight, and must be documented by photograph (analog or digital), showing the fish against a tape measure or other properly-calibrated measuring device.
All methods of fishing are permitted, including bait or lures, explosives, poisons, harpoons, nets, etc. VALIS suggests that competitors may have good results using a standard drag net.
All entries must be submitted to VALIS for judging before the Awards ceremony, and results will be posted at the KYC. The boat presenting the longest fish will be the winner, and all other competitors must buy beer (or equivalent) for the winning crewmembers.
Since our recommendation is that you eat your catch after photographing it, here is a recipe for fish jerky, as submitted by VALIS crewmember Rich:
*****************
Marinate thin strips of fish for 24 hours, then run a look of thread or thin line thru each piece…string a bunch of lines between the shrouds and tie the jerky to the strung lines for a day and bingo…dried fish jerky.
Back Country Jerky Marinade
1 bottle Teriyaki Sauce
1/2 pint Maple Syrup
1 oz Liquid Smoke
3 Tbsp Favorite Hot Sauce
1 tsp Vinegar
1/2 tsp Brown Sugar
1/2 tsp Garlic Powder
1/2 tsp Salt
1 tsp Lemon Juice
1 oz Molasses
*****************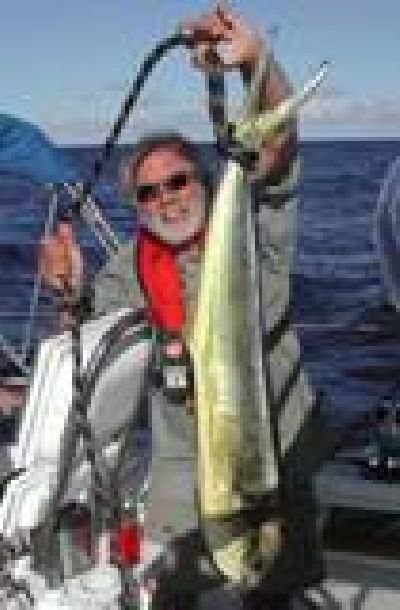 Paul and his Mahi-Mahi, Pacific Cup 2006