The 2010 Pacific Cup is about to begin. The VALIS team is starting to assemble, the boat is (almost) ready, we're preparing and loading provisions, collecting our gear, and generally psyching ourselves up the competition.
We are also hoping for a glorious passage to Hawaii. However, the weather forecasts are looking pretty unpleasant for the start. In fact, all this coming week the conditions look challenging for getting out of the Gulf of the Farallones and into the regular northerlies. Keep in mind that these are forecasts, and the further out you go, the less reliable the predictions are. Our start is only 72 hours away though, and the forecast is probably fairly accurate. This is what the GRIBs are showing (gfs100702-06z.grb dated 2010/07/02 10:38:18Z).
July 5th – The Big Picture:
This is the Monday morning wfax chart. It's a 96-hour forecast, issued yesterday. Note the strong stationary low near Fresno(?), and the 35-kt winds offshore of San Francisco. There is a gale warning out there.
July 5th – The Big GRIB Picture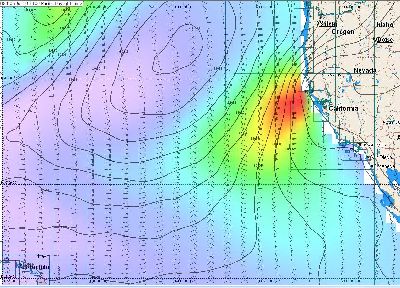 Here is the GRIB picture of the same thing. Those are 17ft seas and 30kt winds about 150 miles offshore. Note the kink in the 1014 isobar, and how it is giving us light and scrambled winds as we leave San Francisco.
Starting Time: 

This is a detail view of the conditions at the July 5th start. We need to somehow get through the light winds (5kts or less) out into the strong northerly wind. Notice how the wind direction reverses beyond the Farallones. Working through that stuff in the increasing swells is not going to be fun.
 July 6th, 11:00AM:
The kink in the 1014 isobar has gotten worse.  So have the winds near the coast.
 July 7th, 11:00AM: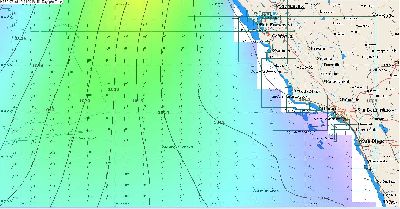 July 7th – The Big Picture:
Here is the forecast for day three. Look at the widely-separated isobars west of Baja, and the light wind there. The Pac High is positioned well to the north and is well-focused. Perhaps a course closer to the rhumbline is indicated? This has not been a winning strategy in our past races though. It's too soon to tell…