The race: The Spinnaker Cup — San Francisco to Monterey
The crew: Edward K, Jack T, John C, Keith S, Phil M, Rich J, and Paul E (me).
Just like Charlie, VALIS Don't Surf. Or point, either. But great fun was had by all.
The race start was delayed by about an hour, since there was virtually no wind and a stiff flood current. Once our starting gun went off, we tacked against the flood towards the line, and it took a couple of passes before we made it over (the line was near the NW end of Angel Island). *All* the other boats (except for the doublehanded Galaxsea, who was still on the wrong side of the starting line) were heading over towards Yellow Bluff, so we did too, finding some current relief.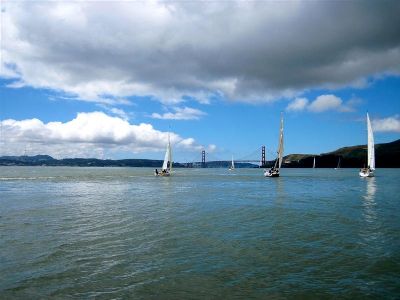 A Slow Start
We worked out through the channel, trading tacks with Galaxsea who had somehow caught up with us. After a couple of short tacks to avoid being run down by a very large ship we finally cleared Seal Rocks and were headed south.
With the apparent wind well forward of the beam at around 17 kts, we continued to head offshore, until we were almost four miles out from Pt. Montara. We had the main, genoa, and staysail up and were making about 7 kts. Galaxsea was behind us, and all the other boats *way* in front. Six miles ahead, Tiki J had an AIS transponder and we were watching them slowly walk away from us.
South of Pigeon Point we were finally able to set the spinnaker. 8 knots, 9, 10 knots boatspeed. Eleven knots! Tiki J was in our sights and we began to gain on her.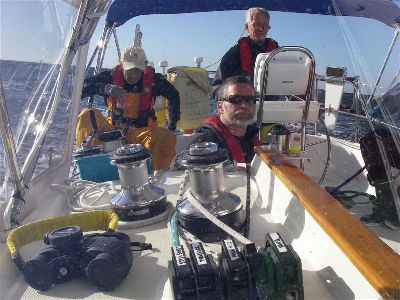 (L-R: Edward, Phil, Rich)
For dinner we had homemade chicken tacos, spanish rice, and beans. Nobody was seasick.
We kept the spinnaker flying until sometime around midnight when gusts of 30 kts made it impossible to keep from crashing. The third crash had the boom in the water and the big lightweight spinnaker wrapped around the furled genoa and staysail, flogging violently. Somehow, don't ask me how, we managed to unwrap the mess, and douse the kite (Rich and I were on foredeck), and with no damage to the sail. At this point we could have put up the shy kite, but I decided that I had been sufficiently amused so from this point on we flew the white sails. Tiki J was safe.
We continued to make good speed, until the wind essentially shut off mid-Monterey Bay. The morning was spent hunting for wind, and slowly approaching Monterey. Around sunrise we found ourselves along the Monterey waterfront, with extremely light wind and a favorable 1/2 knot current. We checked in with the race committee at two miles, and with a few tacks to avoid the maze of buoys (tacks or jibes, it was hard to tell the difference) it took us about two hours to drift across the finish line. The only other boat on the water was Galaxsea. For a while that morning it looked like they might sneak past us, but their wind was just as elusive as ours. They finished about a quarter mile and fifteen minutes behind us.
First boat to finish: AKELA — 7 hours, 11 minutes, 6 seconds (a new course record)
VALIS — 20 hours, 22 minutes.
Apparently the trick was to finish Friday evening, before the wind shut off! Now we know.
The Sunday morning sail back home (actually, a motorsail) was an adventure. Rich, Phil, and I were the crew. There were strong wind and moderate seas in Monterey Bay, but once we got near Santa Cruz and headed out to sea, the swells really kicked up. We ended up with a deeply-reefed main and just the staysail. Around 10:00PM the wind and seas moderated and conditions were more comfortable for the rest of the sail. We arrived in Sausalito around 8:15 Monday morning.
-Paul