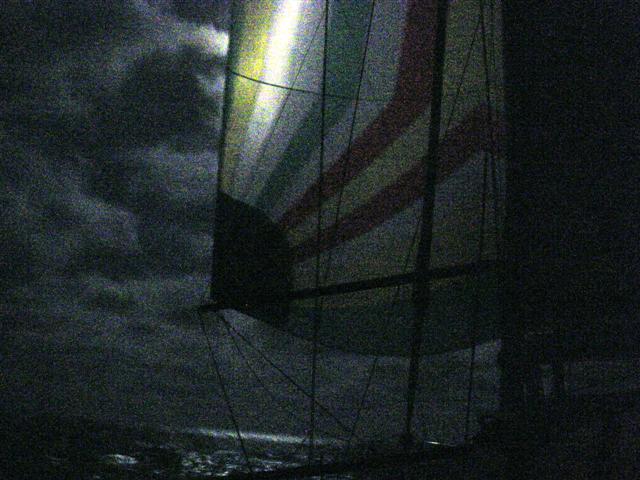 You may recall that as VALIS was sailing home from our recent northbound attempt, we discovered that we were entering the Golden Gate at the same time as No Ka Oi, returning from Oahu.  No Ka Oi had raced in the 2008 Pacific Cup, and as a result of our radio contact out by the Farallons, Phil Mummah, No Ka Oi's owner, invited me to race with his crew on the "Windjammer's " race from San Francisco to Santa Cruz.  Of course I jumped at the chance!
No Ka Oi picked me up at the Gashouse Marina fuel dock on the morning of the Friday Sept 5th race, and we had a glorious time sailing in a variety of conditions down to Santa Cruz.  We crossed the finish line around 5:14AM Saturday morning, and I am happy to report that No Ka Oi won second place in her division.  Way to go Phil!
On Sunday morning No Ka Oi began sailing back home, with an overnight stop in Half Moon Bay.  We arrived in San Francisco late afternoon Monday.
As an experiment, I brought my little snapshot camera and a fixed-mount clamp bracket I had cobbled together from bits and pieces.  During the race, I would set the camera to snap photos at fifteen-second intervals, and then position the bracket in what I hoped would be an interesting position.  The camera would run for 1000 shots (a little over four hours), then shut off.  I occasionally remembered to re-start it, and sometimes repositioned it while it was shooting, with no specific plan in mind.  It would appear that other than a few night shots, I stopped taking these photos before we put up the spinnaker.  Once back home, I dumped all these photos into a video editing program, setting the transition speed to four frames per photo.  The result is a 2-1/2 minute time-lapse video of a portion of the race.  I kind of like it!
Here is the file: No Ka Oi Video