Tall Ships 2005
We had a great time on the S.F. Bay yesterday (Thursday, July 28, 2005), sailing from our Sausalito slip around 10:00 AM to see the Tall Ships.
On board were Dave H, John C, Paul G, Alan, Susan, and Fay B, and Mary, Mina, and Paul E. We sailed with brisk winds to the south tower of the Golden Gate Bridge, and hove-to, waiting for the ships to enter the Bay. There was moderate fog coming in through the Gate, but the air was clear below about one thousand feet. Warm clothes were definitely *not* optional.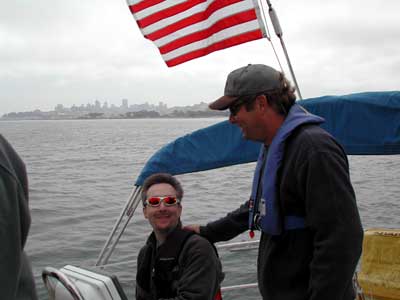 Dave H. at the helm of VALIS, with John C. providing moral support
While waiting for the ships, the wind and current tended to push us into the parade route. On several occasions, a Coast Guard runabout came by and asked us to keep the channel clear. No shots were fired, fortunately, and we were far from the worst offenders.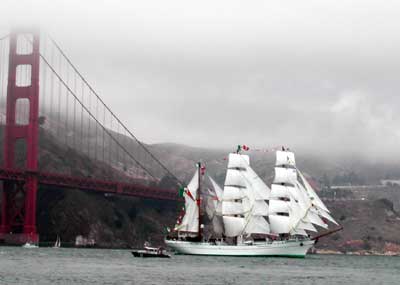 Cuautemoc, a 270-ft Mexican Naval cadet barque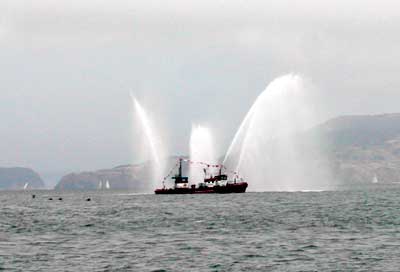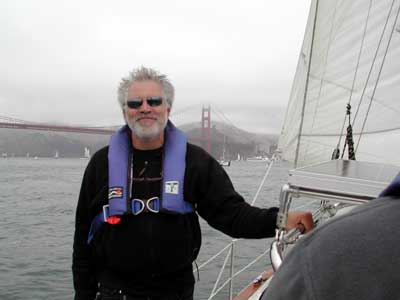 Paul E, expressing contrition for having strayed into the parade route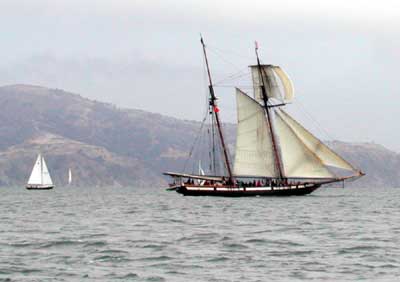 Lynx, an 1812 Privateer Replica
Lynx (http://www.privateerlynx.org ) is an interpretation of an actual privateer named Lynx built by Thomas Kemp in 1812 in Fell's Point, Maryland. She was among the first ships to defend American freedom by evading the British naval fleet then blockading American ports and serving in the important privateering efforts. The current Lynx was launched on July 28, 2001 in Rockport, Maine, and is home-ported in Newport Beach, CA. She is a regular visitor to San Francisco, and we have photos of her on the sailvalis.com website from the 2002 Tall Ships parade.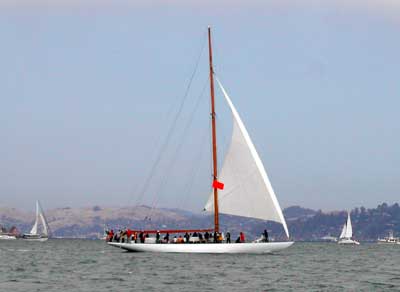 The 82-ft Pursuit, of Sausalito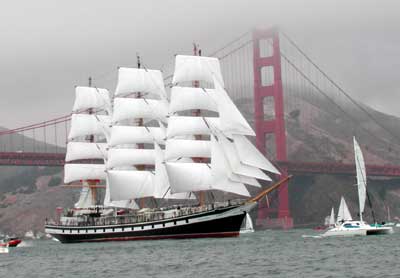 Pallada, a 356-ft Russian merchant marine training full-rigged ship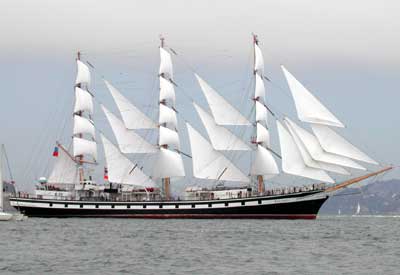 Pallada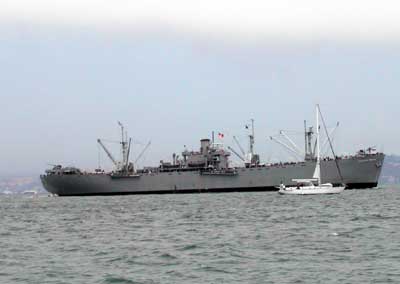 Liberty Ship Jeremiah O'Brien
VALIS sailed belind Pallada and ahead of the Jeremiah O'Brien, along the waterfront as far as Pier 39. We then turned behind the Liberty Ship and sailed past Alcatraz, behind Angel Island, and Tiburon. The sun was out, the wind was warm, and we had lunch while taking turns at the helm. We then ran back to the Raccoon Strait between Angel Island and Tiburon, tacking up the channel until the wind died near the west end of Angel Island. Firing up the Diesel, we motored back to our slip and tied up around 5:00 PM. All in all, a very pleasant day.
-Paul E.