This afternoon we took a ride out to Bodega Bay to see the Bounty. We stopped at Doran Beach State Park, which has one side on Bodega Harbor and the Coast Guard station there, and the other side is a long sandy beach out to Bodega Bay and the Ocean. Bodega Harbor is at the north end of the bay, and Tomales Point and Tomales Bay are at the south end. Pretty much in the middle was the Bounty, riding peacefully at anchor.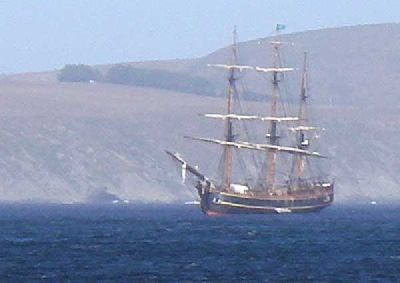 She had her RIB tender hoisted amidships and I could see no activity on deck. The bay was calm, but the winds were still gusting enough to occasionally lay the Bounty over a few degrees. Quite a beautiful boat.
When we got home, I had some nice email from the father of one of the crewmen. His son had texted him the URL of this blog! Amazing, this newfangled internet stuff! He told me that they had been making so little progress fighting the wind and seas that they had decided to hole-up in Bodega Bay until things blew over. I was pleased to learn that my concerns about possible damage were unfounded.
Bon Voyage, Bounty!