3:00PM PDT, July 18 Lat 28d 04m N, Lon 151d 01m W Speed 7 kts, Course 210 deg mag. Wind 19 kts
540 miles to Kaneohe!
It's a pretty lazy day here on the ocean. Last night we had a bright half-moon and occasional cloud cover, but were able to see many stars, as well as the bio-luminescent sea creatures below us. We stuck with the wing-and-wing configuration, as the sea and wind combination was a bit too much for comfortable spinnaker sailing (especially with the occasional small squalls).
Just before sunrise we jibed the main and poled-out genoa, trying to make our course to Kaneohe. However, we were still heading too far west, so we dropped the pole and are now sailing with main and genoa to starboard. This points us a bit east of our goal, but the wind is supposed to shift over the next few days and that will put us on course. Or, we will jibe again — however we do it we will get there!
Shortly after sunrise we had a close encounter with a fishing boat. It was heading straight for us until I hailed it on the VHF to make sure they saw us (close range, perfect visibility). They returned the call and promised not to hit us, but we passed within a hundred yards or so. They were going fast and did not appear to have any lines or other gear in the water. Did they not see us, or were they playing chicken?
I'll be honest, we aren't racing as hard as we could. The wind is supposed to lighten up and if it does we will probably hoist the spinnaker, but until then we are all happy to sail reasonably fast, comfortable, and safe. We are enjoying the experience.
During this morning's radio roll-call, Pac Cup doublehanded boat "Ragtime" announced that they were retiring from the race. A combination of light air and personal schedules means that they are now motoring in search of better wind as they continue on to Hawaii.
Yesterday during the evening "Children's Hour" radio net, doublehanders "Li'l Angel" reported that their boom had disconnected from the mast (gooseneck failure?). They are now flying twin headsails and a trysail and are still racing.
Crew Profile: Paul C.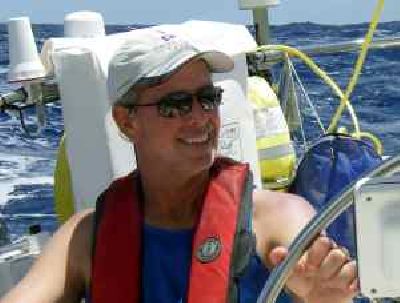 Paul C. first joined VALIS in 2008, when he helped us sail back to San Francisco after the Pacific Cup. Paul filmed the "Close Encounter With a Whale" video on our website, and you can hear his infectious accent when he says "Oh Sh*t" right after the incident. Since then, Paul has raced on VALIS in the 2012, and now 2014 Pac Cups. Paul learned his prodigious sail-trimming skills racing on the lakes of Arkansas and vicinity, and they come in very handy here.
Regards, Paul / VALIS