On April 23/24, the VALIS crew (race and return) spent some quality time
on board in the brief interval between the storms we've been having
lately. On Sunday morning, we reviewed the new spinnaker gear, and
hoisted the trisail to check fit and rigging. We then went out with J.P
and Robin (rigger and sailmaker) for some asymmetrical spinnaker drill.
While we wouldn't win any awards for speed or precision (yet), we
managed to jibe a few times without any crashes.
We then returned to the slip, did a provisioning run at the local
supermarket, then started out the Gate for the big Pacific. Of course
we missed slack-water, and after several ground-losing tacks in light
wind against the flood current we motored out to Point Bonita. This
will *NOT* happen when we start the Pac Cup!
Once offshore we spent the evening sailing up and down the coast, gradually
working our way out to sea. With six on board, we divided into two
watches (sort of) and went to work. The propane stove turned up FUBAR,
so, being the tough old salts we are, we used the microwave instead.
Everyone got some time at the wheel, and we got re-acquainted with VALIS
at night. The winds were light and variable, the seas were small, and
by dawn we were not much more than halfway to the Farallons. After
sightseeing at the NOAA weather buoy, we turned for home.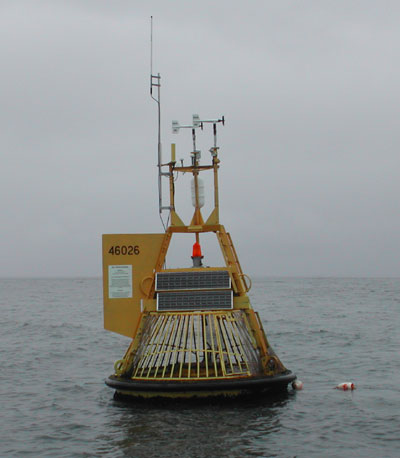 One thing we all learned (again) was that it is *COLD* out there, and
that layers are your friend.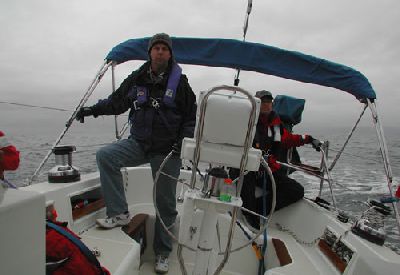 The wind remained light, and we ran in a few miles north of the shipping
channel. We were going to use the Bonita Channel, but conditions were
so calm we decided to take a short-cut over Four-Fathom bank. We ran
the Asymmetrical for a good part of the way, which really made a
difference. I can't wait to get the new spinnaker, though – it would
have really helped with our angles.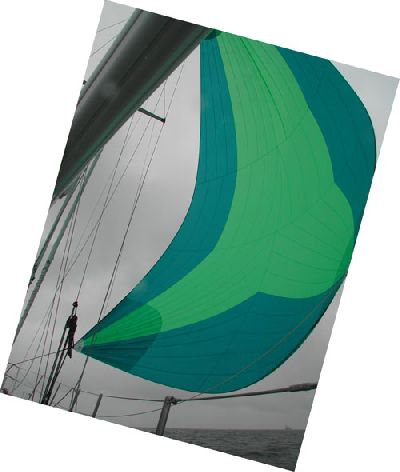 (The new wide-angle lens does make a difference!)
Wouldn't you know it, but we missed the slack water, so we hugged the
north edge of the channel and jibed our way in under the Golden Gate
Bridge. The current was fierce, but we made it, purists that we are,
under sail alone.
Once inside, we headed for Richardson Bay, and did a little MOB drill.
We've got to work on slowing down the boat, but we did manage to recover
our victim (a yellow cushion) each time. We then came back to the
Sausalito slip, washed down the boat (while Paul conveniently discovered
some old friends he needed to catch up with), and we finished with a
good discussion of what we learned during our little jaunt.
Next: Another two-day session in mid-May (dates TBD), plus lots of
rigging improvements and system adjustments. I *WILL* fix the stove! I
will let you all know if I will be taking the boat out any other days.
-Paul