VALIS will be racing in the "Three Bridge Fiasco" on Saturday, January 31.  This is a race sponsored by the Singlehanded Sailing Society (with singlehanded and doublehanded divisions) and should be a lot of fun.  As this point there are 322 entries, and there is still almost a week to go for sign-ups.  VALIS will be sailing doublehanded, and the crew will be Paul Elliott (me) and my friend Rich Jones (who sailed on VALIS in the '08 Pac Cup).
This race starts off of the Golden Gate Yacht Club (next-door to the St. Francis YC, where the Pacific Cup starting line is), and the course touches the Golden Gate Bridge, the Richmeon-San Rafael Bridge, and the Bay Bridge.  These marks can be taken in any order, and the start/finish line can be crossed in any direction.  This is a "pursuit race", where a boat's start time is determined by her rating.  Thus, crossing the finish line ahead of another boat means you have beaten it, since the handicap is applied at the start.  With start-times ranging from 9:30AM to 11:38 AM (ours is 10:18:18), and with over 300 boats crossing the line in both directions, the "Fiasco" is well-named!
Here is the general course: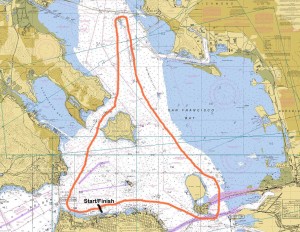 Note that the course doesn't actually go under the Golden Gate or the Richmond Bridges, but instead around the "Blackaller" buoy and around Red Rock: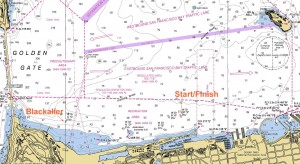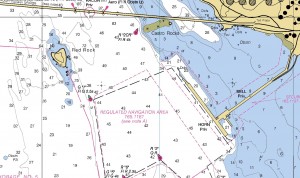 Blackaller is near Fort Point, and Red Rock is just south of the Richmond-San Rafael Bridge.  Note the security zone around the long wharf to the east of Red Rock.  This is where the oil tankers tie up, and the Coast Guard will come out and point their guns at you if you get too close.  If you get too close you will be disqualified from the race (if you survive).
The third mark is Yerba Buena / Treasure Island, and to round this you definitely need to sail under the Bay Bridge.  There is construction going on and the Coast Guard is advising boats to keep clear of the "G-H" span where there are moored barges: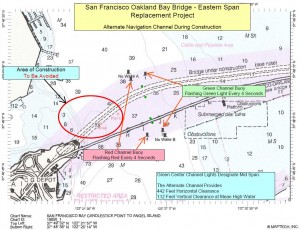 The race strategy will be driven by the predicted winds (which are often quite light in the winter), and by the currents.  I expect that we will run the course clockwise (Start -> Blackaller -> Red Rock -> Yerba Buena -> Finish), but we may change our minds on race day.
I will be bringing a camera, so tune in next week for photos and our thrilling race commentary!