On Friday, May 16, Alan, Michael, and I took VALIS out for a spin. The day was warm, with light to moderate winds. Our goal was to give Alan more helm-time, and to familiarize Michael with the boat and her quirks.
Leaving Sausalito, we sailed past the north side of Alcatraz, then tacked out under the Golden Gate Bridge and past Mile Rock.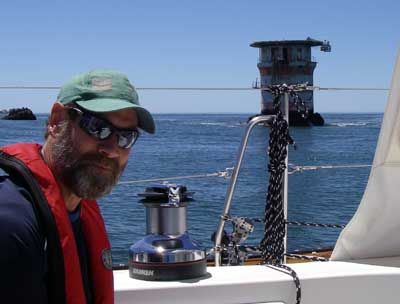 Alan and Mile Rock
The Mile Rock structure was originally a lighthouse, built after the tragic sinking of the City of Rio de Janeiro in 1901 (http://www.lighthousefriends.com/light.asp?ID=77)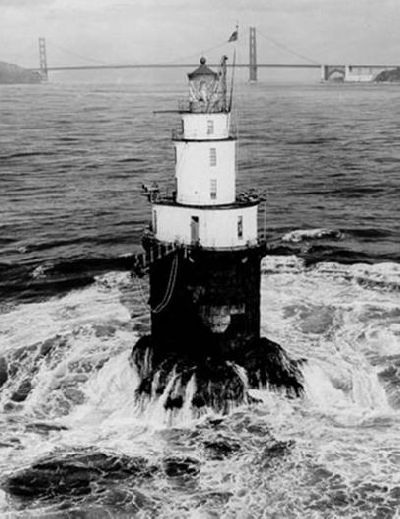 The Original Lighthouse
The seas were unusually calm as we sailed, accompanied by pods of dolphins much of the way, north past Point Bonita. At this point the wind really dropped off, and not wanting to fight the building ebb tide, we sailed, and motorsailed, back into the bay. As we passed under the bridge the winds picked up as if a switch had been thrown. We raced into the bay, and were treated to the sight of Chip Megeath's R/P 45 Criminal Mischief. Mischief will be racing in the Pacific Cup, and it looks like they are going to have a fast ride to Hawaii.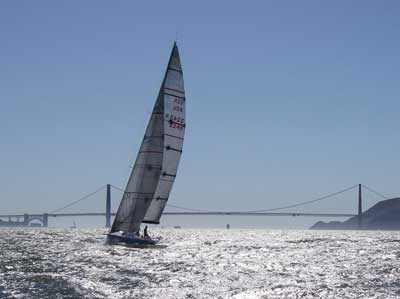 Criminal Mischief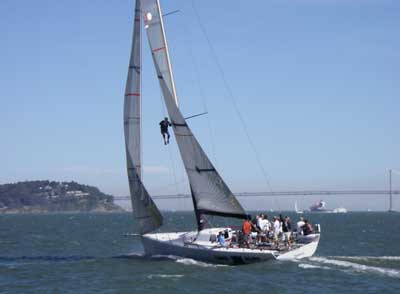 Cameraman on a Wire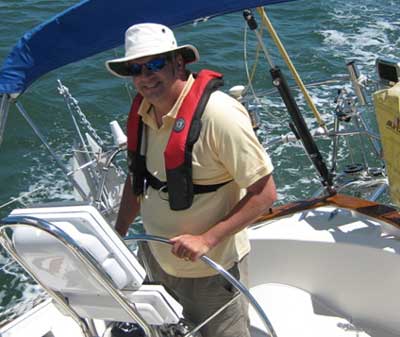 Michael at the Helm
Once Criminal Mischief passed us (which didn't take very long!), we performed a "chicken jibe", then sailed behind Angel Island, tacked up Raccoon Strait, then into Richardson Bay and our slip. Once VALIS was tidied up, we zoomed over to the Sausalito Yacht Club for dinner and discussion.
Attached is the GoogleEarth KMZ file of our track, and those of the AIS-equipped ships in the area: