Lately I've been working with AIS (Automatic Identification System)
tools and hardware for VALIS. AIS is a system used to track ships using
VHF transmitters and receivers. Ships broadcast their position, speed,
course, etc, and we can receive these signals, allowing us to anticipate
close encounters and make necessary course changes. AIS is a
breakthrough technology, and I will be writing more about it.
Recently, I procured a second AIS receiver for use at home as I refine
my AIS software and hardware. I have been very impressed with the
receiver range, and have been using my Pocket PC to capture and store
the received AIS data. With a thrown-together post-processing program,
I can make Google Earth track files from the saved data. Here are some
images, showing ship traffic over the past couple of days: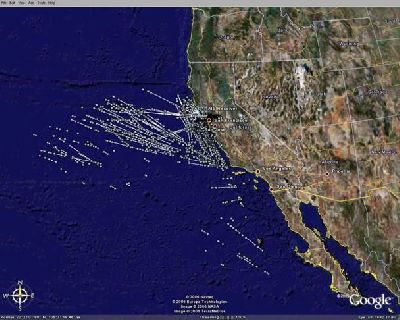 Note that this is well beyond line-of-sight – probably tropospheric
ducting propagation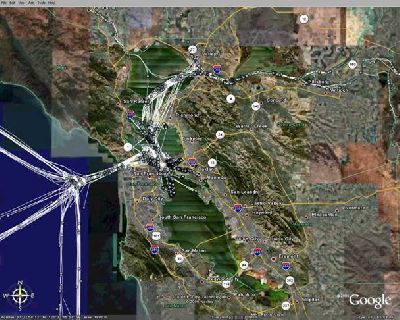 Zoomed in on San Francisco Bay area traffic
My program captures all active AIS targets (ships) at ten-minute
intervals, and draws a track line for each ship. If a target disappears
for a while, and then re-appears, a new track is started. You will
notice that some tracks cut over land in the north-bay area – these are
the high-speed ferries, and the combination of their speed and the very
poor signal strength from these location creates gaps in the tracks.
I am attaching the Google Earth "KMZ" file that was used to make these
pictures. Click on a track endpoint to to see the ship's MMSI number
and the time/date. You can (usually) look up a ship's MMSI and find the
ship particulars at this site:
http://www.itu.int/cgi-bin/htsh/mars/ship_search.sh
Have fun!
-Paul