Sent: Saturday, June 18, 2005 10:29 PM
Intention in the Marquesas
By Paul Elliott
On June 2, I flew from San Francisco, through Los Angeles, to Papeete, Tahiti. The next morning, I took a small inter-island flight to the Island of Hiva-Oa, in the southern Marquesas. Intention and crew sailed into Tahauku Bay, near the town of Atuona, before first light on Sunday, June 5th. Later that morning, I greeted Jim, Darla, and John with fresh bread, Pamplemous (sweet grapefruit) and a Champagne toast to their voyage.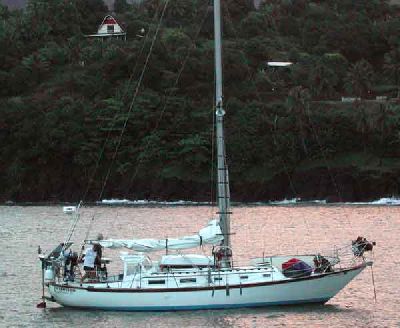 Intention at anchor in Hiva-Oa, looking good after the passage from San Francisco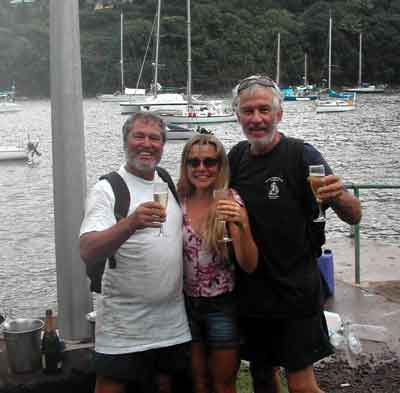 Celebrating a successful voyage
We spent a couple of days on Hiva-Oa, needing to clear in with the local Gendarme, and to re-provision with some fresh fruits and vegetables. We also did some sight-seeing, and the weary crew was able to freshen-up at the local hotel.
On Wednesday morning, we left for the near-by island of Tahuata. We arrived in the afternoon at a small, secluded beach. The gentle waves and soft sand were calling to us, so we swam ashore and explored the 300-yard width of the deserted beach.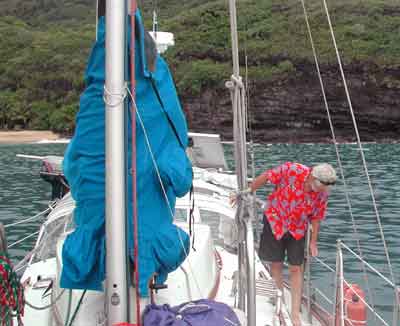 John considering the swim in to our private beach on Tahuata
We spent the night anchored, and left the next morning for Fatu-Hiva. A school (pod?) of dolphins escorted us as we left Tahuata, leaping and frolicking while we watched.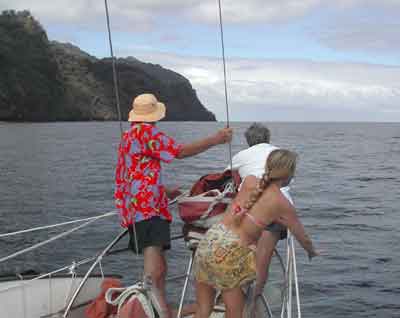 Watching the dolphins off of Tahuata
An evening arrival in Fatu-Hiva had Jim swimming out the stern anchor, with us guiding him by flashlight. The next morning, we were rewarded by the incredible primitive vision of the majestic and powerful stone spires guarding the protected anchorage of Hanavave Bay. We went ashore, met some of the locals, and bargained for fresh food (a large fish, in trade for a small bag of trail-mix, fresh fruit: practically given away). We also purchased and traded for some wooden carvings and inked tapa-cloth while we were on the island.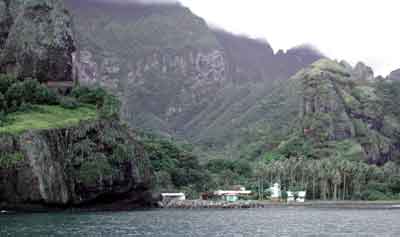 Hanavave Bay (Bay of Virgins), Fatu-Hiva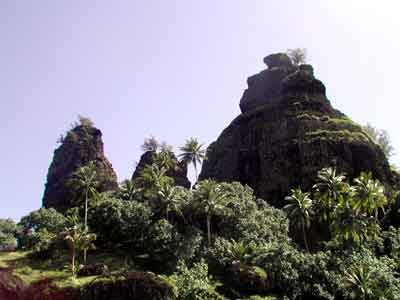 Majestic Fatu-Hiva
We were anchored next to a couple of very friendly Norwegian policemen, so we all decided to hike from the bay to a waterfall (I estimate it at about 275 feet). The two-hour hike (each way) was steep and muddy, but the deep pool at the base of the falls made it all worthwhile!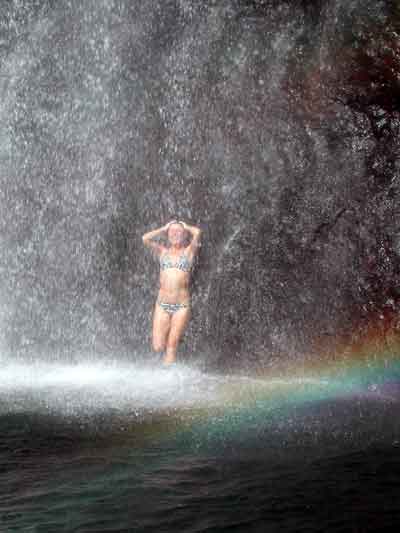 Darla at the end of the rainbow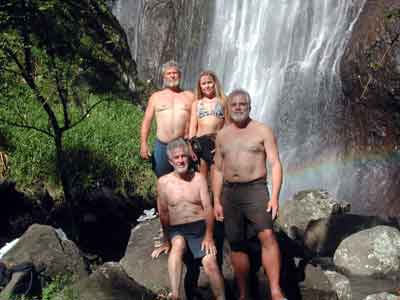 Jim, John, Darla, and Paul at the falls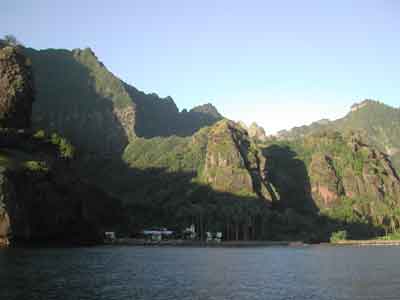 Leaving Fatu-Hiva
We left Fatu-Hiva, and sailing through the moonless night we were escorted for several hours by a school of dolphins, covered with fiery phosphorescence and leaving trails of sparkling light in their wake. We arrived Sunday afternoon at Ua-Pou. This is another beautiful island, where we anchored in the dramatic harbor of Hakahau Bay. There had just been a large Confirmation ceremony at the Catholic Church, and we were invited to sample the food at one of the many celebration parties that evening.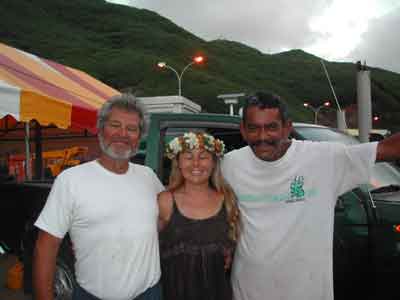 Jim, Darla, and our host on Ua-Pou
As this island is in the Northern Marquesas, we had to check-in with the Gendarme on Monday. We were able to listen to the children's choir practicing in the afternoon – a moving experience. We left Monday evening for an overnight sail to Nuku-Hiva. We had brisk breezes, and we sailed all night with jib and staysail, averaging about six knots. We arrived in Daniel's Bay (Taioa Bay) in the dark, but anchored safely and securely.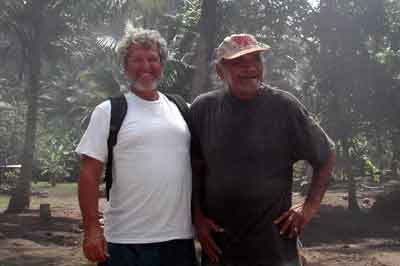 Nuku-Hiva — Jim and Daniel meet again after 15 years
Daniel's Bay is named after Daniel, who has been greeting visiting yachts for many years. He now has seven logbooks with entries from many hundreds of boats. We were able to find Jim's entry of fifteen years ago, and we all signed a new page in Daniel's latest book. We all hiked to a very high waterfall, and enjoyed it's powerful and cooling waters. The pool at the base of the falls was inhabited by thousands of small crayfish. They were curious and tickled a little, but none of us lost any blood.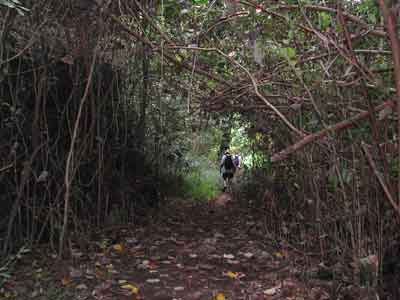 Hiking through the jungle, to the falls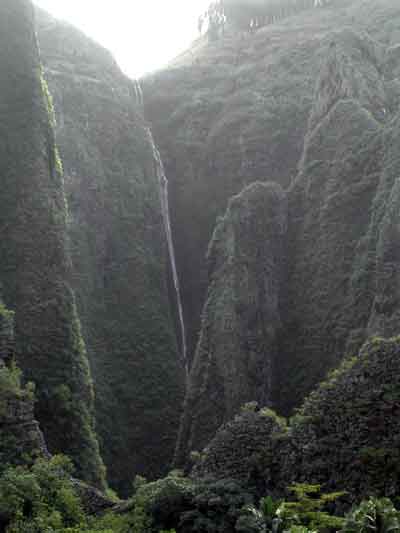 The waterfall
We spent two nights in Daniel's Bay, and each morning watched schools of Manta Rays feed near the boat. Some of these creatures had at least seven-foot wingspans, and were a joy to watch as they performed an underwater ballet for us.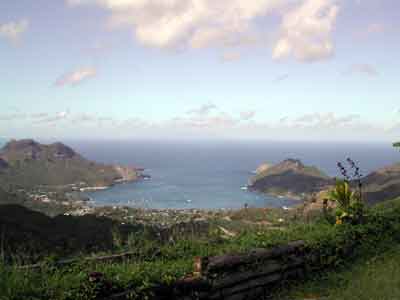 Taiohae Bay, Nuku-Hiva
We left on Thursday morning, and quickly anchored in Taiohae Bay, just a few miles east of Daniel's Bay. I went ashore and made arrangements for transportation to the airport for my flight the next day, then we explored the beautiful town of Taiohae and had dinner at a small restaurant. On the way back to Intention, we passed a group of young men and women practicing dances, singing, and chants. The powerful rhythms and motions and chants of the men, and the lyrical singing and subtle dance of the girls captivated us for hours. Friday morning, Jim and I rowed ashore, where I was taken by four-wheel jeep over the mountainous ridges and muddy roads to the small airport on the other side of the island. My plane took me back to Tahiti, where I spent the night in air-conditioned comfort and returned home, via Los Angeles, this afternoon (Saturday, June 18).
Thank you Jim, Darla, John, and Intention, for an amazing experience!
Sincerely,
Paul Elliott