Sailing Vessel INTENTION is a Crealock 37, Owner and Captain Jim Marco. To learn more, see About Intention.
The Journal is a collection of emails from INTENTION while under way, as well as other items relating to the vessel, the voyage, and the crew.
The Position Report shows INTENTION's position, as reported by radio email to the "Yotreps" vessel tracking website.
Please note that several days may pass between updates. This can be due to many things, including difficulties in making radio contact, or the crew just not getting around to it. Please do not panic if new information comes in slowly.
For daily weather charts and predictions, visit the Weather page
Intention is embarking on a multi-year voyage through the South Pacific. Join Jim and crew as they sail from San Francisco to the Marquesas, the Tuamotus, Tahiti, and beyond.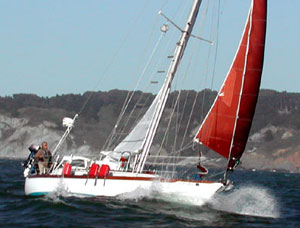 Intention, departing San Francisco for the South Pacific