The 2006 Pacific Cup
San Francisco to Hawaii
Race Start Blog -- Google Earth Race Trackfile
Return Voyage Blog -- Google Earth Return Trackfile
---
Preparation
---
While the San Francisco bay is a truly great place to sail, VALIS is made for long-distance voyaging. In December of 2005, I was considering entering VALIS in the 2006 Pacific Cup, a race from San Francisco to Oahu, Hawaii.
The first step was to find a crew. First to sign up were Daniel and Andrew, who had sailed with me to Hawaii and back in 2003. My son-in-law, Ville, was also eager to go, so we had critical mass and the race was on. We discussed the race and crew requirements among ourselves and decided that a fifth crewmamber would be good to have. A friend volunteered to go, but at the last minute had to drop out, leaving us with four for the race -- we decided that we four could handle things after all. Most boats race with a larger crew (and we were to learn why during the race), but VALIS isn't all that huge down below, and sleeping accomodations for a larger crew would have been rather primitive. We decided that we would prefer to have a smaller crew and more space.
While we were making plans, VALIS needed some preparation. The Pacific Cup requires that all participating boats meet the safety requirements of "International Sailing Federation Special Regulations Governing Offshore and Oceanic Racing for 2004-2005 including US SAILING Prescriptions" for a "Catagory One" race. While VALIS is a well-built boat and already met most of the requirements, there remained a number of things that had to be done. Here is the list:
Storm Jib

Inside Manual Bilge Pump

Emergency Rudder Install & Test

New lifelines without cover - min 3/16" stainless

Two more padeyes in cockpit

MOB Pole and buoy, light, drogue, ring, etc

VALIS name on liferaft

Install wood plugs at through-hulls

SOLAS flares

VHF and SSB emergency antennas

Banding Tool (Stainless)

Deviation card for helm compass

Crew to attend "Safety at Sea" Seminar

Liferaft inspection and re-pack

Bolt the mast to the keel step

Washboard tie-down, access port

Auto-light for lifesling
All Pacific Cup boats have to be inspected before the race. After our first inspection, we still had a substantial list of things that had to be completed: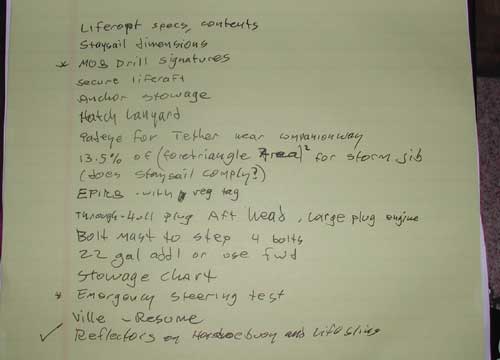 We did manage to take care of everything in time to get a clean bill of health before the race.
In addition, VALIS needed some rigging changes, as we were going to be flying a spinnaker for much of the race. We added:
Carbon-fiber Spinnaker Pole
Foreguy, blocks, and camcleats
Afterguy blocks
Second pair of winches for the afterguys
Deck hardware to store the whisker pole (the spin pole is stored on the mast)
Spare jib and spinnaker halyards and line clutches
A light-air spinnaker
A light-air asymmetrical spinnaker (we already had a heavier asymmetrical)
Improved asymmetrical spinnaker tack attachment hardware
Other tasks included:
Replace expired medicines in medical kit (this required an understanding doctor for the heavy-duty prescriptions)
Load-testing batteries and charging system
Upgrading Iridium satellite phone email setup
Getting new lifejackets, tethers, other personal safety equipment
Having VALIS hauled: new bottom paint, rudder and hull inspection
Getting spare sheets, guys, and miscellaneous lines, blocks, etc.
Sorting through toolkits and spare parts bins, adding and removing as appropriate.
Getting and stowing food for race and return
Replacing all watermaker filters, getting spares
Applying for PHRF rating for VALIS
Getting up-to-date paper charts for Oahu and Kaneohe Bay
Finding a crew to help me sail the boat back to San Francisco
Fortunately, VALIS had recently gotten a new set of sails (main, genoa, and staysail), so these were in good shape for the voyage.
In between all these jobs we had to train as a crew. None of us had spent any serious time with a symmetrical spinnaker, so with the help of our sailmaker (Robin Sodaro of Hood Sailmakers) and our rigger (J.P. of J.P Boatworks) we got in a few hours of practice -- just enough to keep us from totally screwing up, we hoped. We had a couple of offshore overnight sessions, but other than that we didn't do a whole lot of practice. We were comfortable with our ability to sail the boat -- and how hard could racing it be?
While we were preparing, we discovered that recent changes to the Leisurefurl boom-furling system were causing serious damage to the main luff-tape. We went back and forth on this, and thought that we had corrected things. We were to learn otherwise...